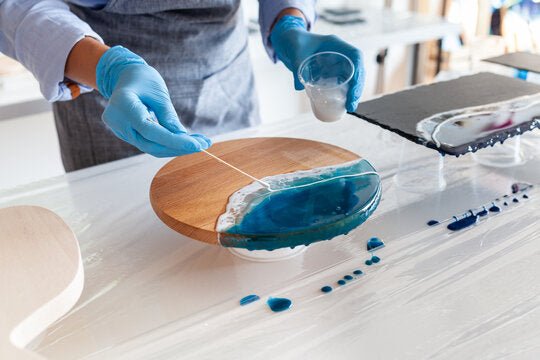 Posted on
---
Art has always been a way to express your emotions, intellect, and perspective. Some could express their emotion through painting. While some could express their emotions through sculpting. These two were the major forms of art in old age. Then, literature became the major form of art. Besides expressing emotions, it was also used to raise a voice against injustice. 
Now, the artists have expanded their horizons. It has evolved from just painting and sculpting to modern-day art.  
One type of modern-day art is resin art. The resin used has grown manifold in the last few years. This amazing compound has a number of uses. You should also be aware of this amazing art so that you can make the most of it. Let's further learn more about resin art and how you can use it. 
What is Resin Art?
As the name reveals, resin art involves the use of a special compound called resin. It is a special type of compound that can be used to create different art pieces. Resin art doesn't require the use of brushes or oil paints. It rather relies on your creativity.  
What makes resin different from other compounds is its ability to solidify. It can be hardened by introducing a hardener or UV light. Unlike other solid materials, it's durable and moldable. Its durability allows us to use it to create different materials.  
To get started, you need to get a mold, resin, hardener, and a few other additives. Other additives depend on what you want to make. For instance, you can get dried flowers, if you want to make a resin flower coaster. But you should have these things in your hand. 
What can you make with Resin?
Its versatility allows you to create different things with resin. You just need to get a mold and then you can create things using that particular mold. You can make earrings, combs, key chains, and many other things. There are also many things you can create without mold.  
For instance, you can create resin jewelry without mold. You can also decorate your living space with resin coasters, ashtrays, etc. You can also add color additives as per your requirement.  
Thus, you can add style to your living space with these colored items without spending enough money. You can also set up your artistic business and sell these hand-made earrings and jewelry. 
Can I make items within my imagination?
You just need to learn the art of using it. Once you do, there is an endless possibility of things you can create using resin. If you want to learn the use of resin, then you can contact us.  
Yes, you can create things that reside in your imagination, but it depends on what you want to create. If there's a mold available that can shape it, then you can make it. If the mold is not available, then it can be hard to make it. If you want a squared shape, then you can use ice cubes if you don't find them.  
If you're looking forward to turning your imagination into reality, then you can order customized molds. When you get the molds, you can turn your imagination into reality. 
Sometimes, your imagination needs a nudge to think out of the box. Concrete Everything conducts workshops that can provide your imagination with a nudge. Let's learn about how we can help you with the following point.   
How can Concrete Everything help you?
Concrete Everything conducts resin workshops where you'll learn how to use resin to create different things. After attending our workshops, you'll be able to create resin coasters and many other things like this. 
We do not ask for any previous knowledge and experience to attend our workshops. If you're a beginner, then we warmly welcome you. If you have any previous knowledge, then it's good for you. You'll be able to learn things quickly.  
We conduct resin workshops that will teach you from scratch. So, there's no need for any previous knowledge. If you're looking to start your artistic business, then we've exclusive deals for businesses. You can contact Concrete Everything for further information. 
About us
Dream | Seek | Make
A home for crafters, explorers, creators and anyone who simply loves beautiful crafts