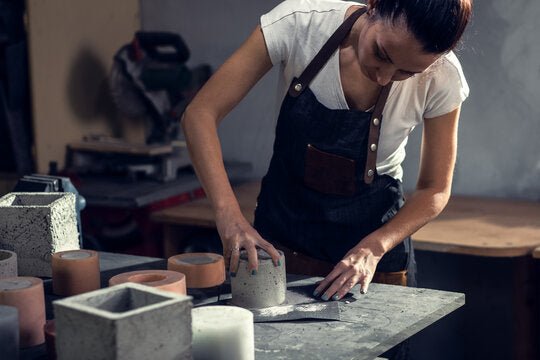 Posted on
---
In this age, disorders such as depression and stress are not new. Stress was there, but people back then countered it because they had ample time. People could reduce their stress by taking a break from work. Now the daily hectic routine does not allow you to take such a break. But this stress can be reduced to some extent by engaging in fun activities.   
Concrete Everything conducts workshops that are full of fun. These workshops can help relieve stress and unleash your inner artist. Let's further learn how our workshops help relieve stress from work.   
Resin Flower Coaster 
Do you want to create your own flower coasters? Concrete Everything conducts workshops that enable you to create your own flower coasters. Each participant can create 2 flower coasters. All you need is a coaster mold, a resin mixture, and dried flowers to create your own flower coaster.  
The instructors at resin workshops will guide you from the scratch. Even if you've never used resin before, you'll be able to create your resin flower coaster. You can almost create anything from resin, provided you have a mold. That's why resin art is booming day by day.  
You can craft combs, earrings, and many other things using the mold. You can also create these things, but it also requires some input and dedication from your end. Attend our resin workshops to learn how you can create different things using resin. 
When you engage in such artsy activities, you forget all the worries of life. The whole experience is self-satisfying and helps in reducing work stress.  
Concrete Workshops 
Considering the uses of concrete, it can be a great addition to your skill sets. You can create anything from a portable device stand to a chic desk lamp. Do you want to create a chic desk lamp for yourself? 
No worries anymore. Concrete Everything conducts workshops that will teach you the use of concrete. Our workshops will enable you to create chic lamps, concrete planters, and many more amazing things like these. You'll also be able to create things that reside in your imagination. But you should have a strong imagination power in order to do that. 
Our workshops do not only teach you to craft things. But we also focus on giving you a new way of thinking. Because there's an endless list of things you can create using concrete. That's why we emphasize imagination power so much. If you have skills without creativity, you will not go a long way.   
When you attend workshops such as concrete, you interact with new people and learn new things. The pleasure of crafting something surpasses all. It makes you forget other things in life.   
Jesmonite Workshops 
Jesmonite is a durable and versatile material, used for anything from furniture and construction to jewelry and crafts. Its versatility has rendered it the best alternative to resin and concrete.  
Once you learn the use of jesmonite, you can start your artistic business. You can cash your jesmonite skills irrespective of your industry. Whether you're an artist, architect, or jeweler, you can learn the use of jesmonite. You can employ your skills to grow your business.  
If you own an artistic business, you can check the deals at Concrete Everything for businesses. We offer customized deals for businesses. You can check these deals on our website.   
Concrete Everything conducts monthly Jesmonite workshops that will enable you to craft artistic, jewelry materials. Our Workshops will also give you an insight into how you can run your business using Jesmonite. It's such a versatile material that it drags your focus from life to crafting newer things.  
Concrete Everything is Organizing Workshops Every Month 
Do not anymore stay in oblivion, learn to use resin and concrete to create amazing materials. Concrete Everything organizes resin, Jesmonite, and concrete workshops every month. After attending our workshops, you will be able to craft with newer materials. 
Our workshops give your imagination a nudge so that you can create something out of the box. We encourage people who want to start their artistic business. We also offer customized offers on our products to businesses. Reduce your work stress by engaging in fun activities at our workshops.  
About us
Dream | Seek | Make
A home for crafters, explorers, creators and anyone who simply loves beautiful crafts