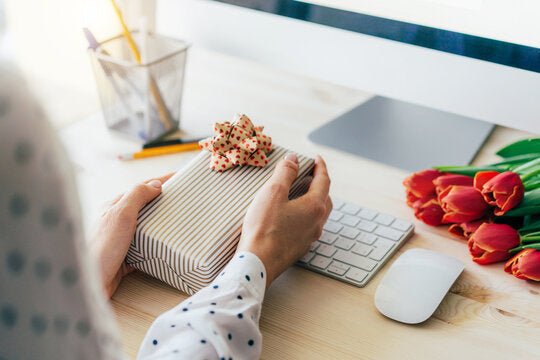 Posted on
---
People have a lot of choices when they want to give a wedding gift or a Christmas gift. But they run out of choices when they have to choose a corporate gift. Giving good gifts to your customers can leave a long-lasting good impression on them and they will vow their loyalty to you.  
But if you give a wrong gift, it can leave an opposite impression. That's why you have to be present-minded when choosing the right corporate gift. There are many things to consider like your brand color, logos, etc.  
You can make the most of your corporate gifts, provided you follow our tips. You can use this as an opportunity to market your brand and build new customers. You can host a corporate event and impress the guests with your amazing corporate gifts and hospitality. 
In this article, we will cover the things that you should bear in mind when choosing a corporate gift.   
Play within Brand Colors
You should keep your brand color in mind when choosing a corporate gift. It can serve as a means to market your brand. But don't just stuff your brand color, make sure the gift looks good. Besides, you need to bear in mind the theme of your event. You should select a gift that reconciles with the theme of the event. It will make the corporate event even more interesting. If your customers find the corporate gift good, then they are sure to return to you. It also provides you the opportunity to build new customers and strengthen your bond with your previous customers. 
Do not Forget a Welcome Letter
Do not forget to include a welcome letter with your gift. But before you write the welcome letter make sure to read the following lines. Since you're writing a corporate letter, it doesn't mean that you have to restrict yourself to corporate terms. Try using words that an ordinary person can relate to. A good letter can make the corporate git look even better. But if the corporate letter isn't written well, then an expensive, high-quality gift will not even look good to people. This highlights the importance of a good corporate massage. 
Add Corporate Logos
Since you're hosting a corporate event, therefore gifts should also include corporate logos. Be creative, and think of a new way to introduce your logos to the gift. You can either use a pen featuring your logo but that's way too common. So, you can place your logo on the gift card. It will give a reminder to your guest that you're the host of this event. Besides, they will be left in awe by witnessing your creativity. Another way to wow your customers is to include a snack or sweet that features your logo. You can Thank us later if you retain your customers! 
Make Sure your gift is unisex
Since the majority in the corporate sector is male, you may end up making the mistake of giving a male kinda gift. But thanks to our guide, you will not make this mistake anymore. Choose a corporate gift that both males and females would find good. Do not try to prepare different gifts for men and women. It will consume much of your time.  
You can use this time to grow your business. Choose a gift that is unisex and will appeal to both men and women. Try to think about what likes/dislikes are common in both men and women. It will save you time and make the welcoming process easier. Your corporate event will also be able to go smoothly without any complications.  
Here is a pro tip: your gift should be memorable. You can make it memorable by giving a corporate gift that customers can use daily. The gift will remind them about you. 
Save your time, and hassle and contact Concrete Everything. We offer customized corporate and wedding gifts that will be tailored to your needs. You can tell us the details of your event like the theme, and it will be prepared as per your needs. If you're struggling to find a unisex gift for a corporate event, Concrete everything is here to help you. 
About us
Dream | Seek | Make
A home for crafters, explorers, creators and anyone who simply loves beautiful crafts