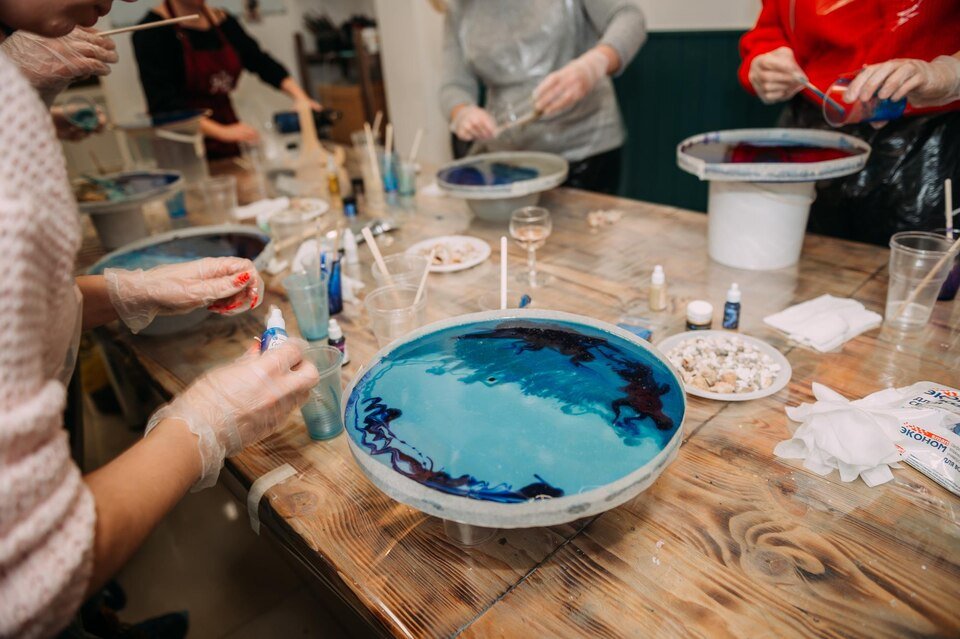 Posted on
---
If you're looking for a fun and creative way to spruce up your home decor, look no further than Jesmonite terrazzo coaster workshops! These workshops allow you to create your very own colourful coasters using a unique and beautiful technique. In this article, we'll explore what terrazzo is, what terrazzo workshops are all about, and how you can get started creating your own coasters today!
What is Terrazzo?
Terrazzo is a type of decorative flooring that originated in Italy over 500 years ago. It is made by embedding small pieces of marble, glass, or other materials into a cement or resin base. The result is a stunning and unique surface that is both durable and beautiful. In recent years, terrazzo has made a comeback in home decor, with many people incorporating it into their floors, countertops, and other surfaces.
What are Jesmonite Terrazzo Coaster Workshops?
They are classes where you can learn how to make your Jesmonite terrazzo coasters. These workshops are usually led by an experienced instructor who will guide you through the process of creating your coasters step-by-step. You'll learn how to mix the materials, embed the chips, and create a smooth finish on your coasters.
Why Attend a Jesmonite Terrazzo Coaster Workshop?
Attending a Jesmonite terrazzo coaster workshop is a great way to spend time with friends or family, while also learning a new skill. You'll leave the workshop with a set of unique and beautiful coasters that you can use in your home or give as gifts. Plus, creating something with your own hands can be incredibly rewarding and satisfying.
How to Find Terrazzo Workshops
If you're interested in attending a Jesmonite terrazzo coaster workshop, there are a few ways to find one in your area. One option is to search online for local workshops or classes. You can also check with your local craft stores or community centres to see if they offer any classes. Another option is to host your workshop! Many companies and individuals offer DIY Jesmonite terrazzo coaster kits that you can purchase and use to host your workshop at home.
Tips for Creating Jesmonite Terrazzo Coasters
If you're planning to create your Jesmonite terrazzo coasters, there are a few tips that can help you achieve the best results. First, be sure to choose a colour palette that you love and that will complement your home decor. Second, mix your materials thoroughly to ensure that the chips are evenly distributed throughout the cement or resin base. Finally, be patient and take your time when smoothing out the surface of your coasters. The more time you spend on this step, the smoother and more polished your coasters will look.
The Benefits of Jesmonite Terrazzo Coaster Workshops
Terrazzo workshops provide a supportive and inspiring environment where individuals of all skill levels can dive into the art of terrazzo. These workshops are typically led by experienced instructors who guide participants through the entire process, from selecting materials to polishing the finished coasters. Here are some of the benefits of attending a Jesmonite terrazzo coaster workshop:
Learn from Experts: In a workshop setting, you'll have the opportunity to learn from seasoned professionals who are passionate about terrazzo. They will share their knowledge, techniques, and tips, ensuring that you gain valuable insights and skills.
Hands-On Experience: Terrazzo workshops are all about getting hands-on. You'll have the chance to mix the materials, choose your colour palette, arrange the chips, and pour the base. This interactive experience allows you to fully immerse yourself in the creative process.
Unleash Your Creativity: One of the most exciting aspects of Jesmonite terrazzo coaster workshops is the freedom to let your creativity soar. Experiment with different colour combinations, patterns, and textures to create coasters that truly reflect your style and taste.
Connect with Like-Minded Individuals: Joining a workshop provides an excellent opportunity to meet fellow art enthusiasts and crafters who share your passion for creativity. Exchange ideas, inspire each other, and build lasting connections within the artistic community.
Bring Home Your Masterpieces: At the end of the workshop, you'll proudly take home a set of handmade Jesmonite terrazzo coasters that you can showcase or gift to your loved ones. These coasters will not only serve a practical purpose but also act as a reminder of your artistic accomplishment.
Conclusion
Jesmonite Terrazzo coaster workshops are a fun and creative way to learn a new skill and create something beautiful for your home. Whether you attend a workshop in person or host your own at home, creating your Jesmonite terrazzo coasters is a rewarding and satisfying experience. With the right materials and a little patience, you can create a set of coasters that you'll be proud to display in your home for years to come. So why not give it a try today?
About us
Dream | Seek | Make
A home for crafters, explorers, creators and anyone who simply loves beautiful crafts