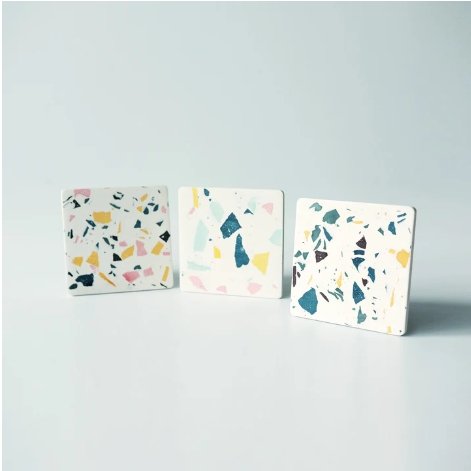 Posted on
---
Jesmonite is a material that has been gaining popularity among creatives and DIY enthusiasts in recent years due to its versatility and ease of use. It is a composite material made from a combination of natural materials such as gypsum and water-based acrylic polymers. This makes it an eco-friendly and sustainable choice for anyone who wants to make something with their own hands.
And we at Concrete Everything are a company that specializes in crafting unique and functional objects from concrete and Jesmonite. We offer a Jesmonite Starter Kit that includes everything you need to get started with your DIY projects. 
And if boredom is striking you at the moment, then this is the perfect time to read this blog post! Because in this post we'll discuss the things that are included in the basic starter kit for jesmonite and top 5 cool and interesting things to make from your starter kit for jesmonite. 
5 Things to Make from a Jesmonite Starter Kit When Bored:
Plant Pot: 
Jesmonite plant pots require molds. Pour liquid into the mold and mix Jesmonite powder. After drying, remove the mold. Polish the edges by sanding. Jesmonite's versatility lets you make a custom plant pot for your favorite plants. Geometric and irregular molds are offered.
Coasters: 
Jesmonite makes easy coasters. Combine liquid and Jesmonite powder in a coaster mold. Personalize using Jesmonite pigments. Remove the mold after just 15 minutes of drying. Sand the edges to smooth them and use your coasters! Pigments and metallic powders allow unlimited creative options. Pick from several colors and finishes to make coasters that match any decor.
Bookends: 
Jesmonite bookends enhance any bookshelf. Mix Jesmonite powder and liquid in a bookend mold to manufacture bookends. After drying, remove the mold. Polish the edges by sanding. From geometric designs to elaborate patterns, bookend molds are available in various sizes. Customize your bookends by adding paints or metallic powders.
Wall Art: 
Jesmonite can be used to create unique and personalized wall art. Mix Jesmonite powder with liquid and pour it into a mold of your desired shape and size. Add pigments or metallic powders to create a custom design. Once the Jesmonite mixture is dry, remove it from the mold and mount it on your wall. The versatility of Jesmonite allows you to create an endless variety of designs, from simple geometric shapes to intricate patterns. Add a touch of color and texture to your walls with stunning and durable Jesmonite wall art.
Jewelry: 
Jesmonite makes stunning jewelry. Pour Jesmonite powder and liquid into a pendant or earring mold. After drying, take the Jesmonite mixture from the mold and polish or sand it. With many molds for pendants, earrings, and other jewelry, Jesmonite offers unlimited creative options. Use Jesmonite's durability and design versatility to make unique jewelry.
What is a Basic Jesmonite Starter Kit?
The Jesmonite Starter Kit is an all-in-one package that contains everything you need to start creating your DIY projects with Jesmonite. The kit includes high-quality Jesmonite powder, pigments, a mixing bowl, and a spatula, among other items. Here is a closer look at what to expect in a Starter Kit: 
Jesmonite Powder:

The kit includes a bag of Jesmonite powder, which is the primary material used to create the DIY projects. The powder is made of a combination of natural materials, including gypsum and water-based acrylic polymers.
Pigments:

The kit also includes pigments that can be used to add color to your Jesmonite projects. The pigments come in a variety of colors, including black, white, and metallic hues.
Mixing Cup and Mixing stick:

To mix the Jesmonite powder and pigments, the kit includes a mixing cup and a mixing stick. These tools are essential for ensuring that the mixture is thoroughly mixed and that there are no lumps.
Molds:

The Starter Kit from Concrete Everything also includes molds that can be used to shape the Jesmonite mixture into various forms and sizes. The molds are made of high-quality silicone and are reusable, making them an eco-friendly option.
Get to Know Us:
Ready to unleash your creativity with Jesmonite? At Concrete Everything, we offer a Jesmonite Starter Kit that includes all the materials you need to create unique and personalized DIY projects. Our high-quality Jesmonite materials are versatile, durable, and easy to use, making them perfect for DIY enthusiasts of all skill levels. Visit our website to explore our wide selection of Starter Kits and get started on your next creative project today! 
About us
Dream | Seek | Make
A home for crafters, explorers, creators and anyone who simply loves beautiful crafts