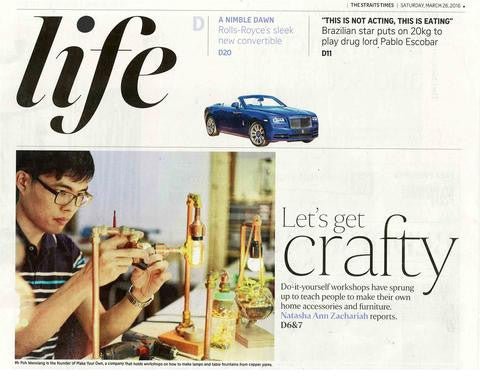 Posted on
---
It's a big deal for me, and yes I am proud of it, lolz. I am so glad our workshops got some coverage from the awesome people at Straits Times (Natasha to be exact). Our workshops held at Naiise were covered and through the interview, it got me thinking on how far back we've started (actually not really far but..) and how our workshops started, developed and drew in people from all walks of life.
It has indeed been a journey and aside from designing, teaching and getting to know people was something I enjoyed very much. Sisters coming together, friends buying our workshop sessions as a gift, couples looking for a unique piece of furniture that they co create together, I love that our workshops has not just imparted craft skills but actually brought people together.
its a shame though, I really do suck at taking good pictures, otherwise i am sure our pictures would have been on the page too. Nonetheless, it has been really cool, and I ll always strive better and I've even got a small training team together to share the knowledge of craft and fun. Definitely looking forward to what is ahead for the rest of the year. God is so good and I am so thankful to all our wonderful participants who we've had the honor to get to know and learn together.
if you are interested in joining our workshops, visit this link to find out more!
cheers and goodnight!
About us
Dream | Seek | Make
A home for crafters, explorers, creators and anyone who simply loves beautiful crafts