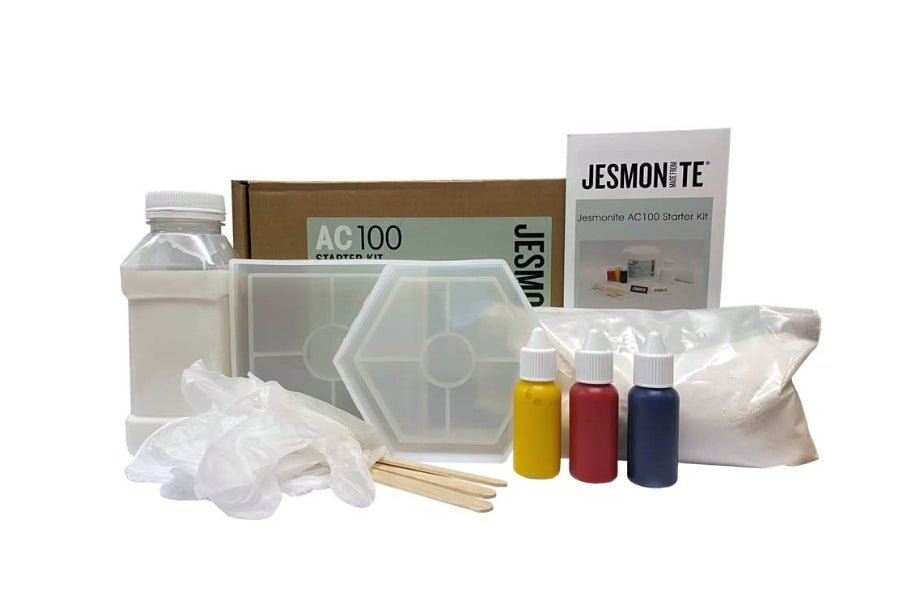 Posted on
---
Unleashing Your Creativity with Jesmonite
Jesmonite is a versatile, eco-friendly, and non-toxic material that has taken the world of arts and crafts by storm. It is a composite material that can be used to create stunning, Instagram-worthy pieces of art. In this article, we will introduce you to the ultimate Jesmonite starter kit, provide tips and techniques for using Jesmonite effectively, and showcase some incredible examples of Jesmonite art.
The Components of the Ultimate Starter Kit
To get started with Jesmonite, you'll need the following components in your ultimate starter kit:
Jesmonite AC100 Liquid & Powder:

The foundation of any Jesmonite project, this versatile material can be used to create a variety of textures and finishes.
Pigments:

High-quality, concentrated pigments are essential for adding vibrant colours to your Jesmonite creations.
Silicone Molds:

These flexible, reusable molds are perfect for casting intricate and detailed shapes in Jesmonite.
Mixing Containers & Stirring Sticks:

Accurate measuring and thorough mixing are key to achieving the desired consistency and colour in your Jesmonite mixture.
Gloves & Protective Gear:

Safety first – always use gloves, a mask, and goggles when working with Jesmonite to protect your skin, eyes, and lungs.
Mastering the Art of Jesmonite Mixing and Casting
To create stunning Jesmonite art, follow these essential tips and techniques:
Proper Mixing Ratios:

Follow the manufacturer's instructions to ensure the correct ratio of Jesmonite liquid to powder. This will guarantee a strong, durable final product.
Add Pigments Gradually:

Start with a small amount of pigment and gradually add more until you achieve the desired colour. Remember that the colour will become more intense as the Jesmonite cures.
Eliminate Bubbles:

Tap the sides of the mixing container or use a vacuum chamber to remove air bubbles, ensuring a smooth and even final product.
Casting Techniques:

Pour the Jesmonite mixture slowly into the silicone mold, starting at the lowest point and working your way up to avoid trapping air bubbles.
Demolding Tips:

Allow the Jesmonite to cure fully before removing it from the mold. Gently flex the silicone mold to release the Jesmonite piece without damaging the intricate details.
Innovative Jesmonite Project Ideas to Inspire You
With your ultimate Jesmonite starter kit in hand, the possibilities are endless. Here are some innovative project ideas to spark your creativity:
Jesmonite Coasters:

Create custom, one-of-a-kind coasters with unique color combinations and patterns.
Jesmonite Planters:

Design stunning planters for your indoor plants, adding a touch of elegance and sophistication to your home decor.
Jesmonite Wall Art:

Experiment with different textures and finishes to create captivating, eye-catching wall art pieces.
Jesmonite Jewelry:

Craft beautiful, lightweight, and durable Jesmonite jewelry items like pendants, earrings, and bracelets.

Jesmonite Home Accessories:

From lamp bases to decorative trays, Jesmonite can be used to create stylish and functional home accessories.
Caring for Your Jesmonite Artwork
To keep your Jesmonite creations looking their best, follow these simple care tips:
Cleaning:

Use a soft, damp cloth to gently clean your Jesmonite pieces, avoiding abrasive cleaners or scouring pads that could damage the surface.
Maintenance:

Apply a protective sealant or wax to your Jesmonite items every few months to maintain their shine and protect them from stains and scratches.
Handling:

When moving or transporting your Jesmonite art, handle it with care to avoid chipping or cracking the delicate material.
Display:

Keep your Jesmonite pieces out of direct sunlight and away from extreme temperature changes to prevent fading, discolouration, and potential warping.
The Future of Jesmonite in Art and Design
As more artists and designers discover the versatility and eco-friendly nature of Jesmonite, the material's popularity continues to soar. From large-scale installations to small, intricate pieces, Jesmonite is becoming an increasingly important material in the world of art and design. As new techniques and applications are developed, Jesmonite's potential for creating truly innovative, Instagram-worthy art is limitless.
In conclusion, the ultimate Jesmonite starter kit is the perfect gateway into the exciting world of Jesmonite art. With its versatility, eco-friendliness, and non-toxic properties, Jesmonite offers endless creative possibilities for artists and designers alike. By mastering the essential techniques and drawing inspiration from the talented Jesmonite artists on Instagram, you can create your own stunning, share-worthy pieces that are sure to impress.
About us
Dream | Seek | Make
A home for crafters, explorers, creators and anyone who simply loves beautiful crafts